Human Rights Introduction
2008
Australia Apologizes to ?The Stolen Generation?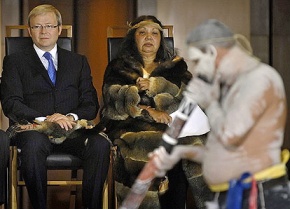 February 12, 2008 was an iconic day in Australia's long and checkered history. Australia's Prime-Minister Kevin Rudd apologized to "The Stolen Generation" for the regrettable indignities that the Australian Aboriginals had to endure. The speech was met with a standing ovation in the Australian Parliament, and was greeted with tears of sadness not only among the Aboriginal community, but from all Australians.
Rudd recognized that the time had come to make a formal apology and was quoted in his speech by saying, "The time has come, well and truly come ... for all Australians, those who are indigenous and those who are not to come together, truly reconcile and together build a truly great nation."
The apology meant a great deal to the Aboriginal community as it was the first major step towards a long healing process, although Rudd said that major challenges still existed within the Aboriginal community such as disparities in life-expectancy and economic and educational opportunities for Aboriginals. A cabinet has since been formed to face the challenges within the Aboriginal Community.